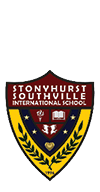 A Premier Learning Institution
Malarayat Campus
Batangas City Campus
Stonyhurst Southville International School (SSIS) is a comprehensive basic education school enrolling almost a thousand of students from Preschool to Senior High School in its two (2) campuses in Batangas City and Lipa City.
It opened in 1995 and partnered with Southville International School and Colleges (SISC) in 2007. Following the Common Core and UK curriculum, SSIS prides itself at its national and international recognitions and at being accredited and supervised by the Western Association of Schools and Colleges (WASC), based in California.
Its curriculum focuses on Math, Science, Language, Reading, Artificial Intelligence/Robotics and Research, with Foreign Language, Business, Entrepreneurship and Arts as its semi-core, all implemented through technology-driven instructions.
A non-sectarian institution, SSIS distinctly practices a small student-teacher ratio policy, encompassed in a safe and nurturing environment. SSIS fosters an English Speaking community, accommodating students of various nationalities, cultures and religions. Stonyhurst Southville seeks to develop life-long learners and leaders inculcated with the values of competence, character, commitment to achieve, collaboration, and creativity.